The German table tennis player Timo Boll, the brand ambassador of Kuka, played a match with the company's finest robots early today. If you watched it, you might have enjoyed it or called it a rigged match played for extravagant commercialization.
In order to taste a real play-off with a robot; German engineer Ulf Hoffmann has just provided you with a rare chance. He has developed a ping pong paddle robot similar to the design of Kuka's robotic arm but more elegant, fast and efficient. He posted the video of the product which went viral within a day reaching more than 350,000 hits. It took him about two years to complete this robot.
Hoffmann's robot slides on the edge of the table and picks 100% of the shots. It even tries to play with tricks to overcome its human counterpart. The robot's sensors are quite accurate and move in the direction of the ping pong. It uses two cameras to track the ball.  The robot uses the core of artificial intelligence, learning about the shots and improving on it with the result of providing best results on every next shot to be played. It almost looks like a human playing with very fast response, smooth sliding, and nice shots.
Also Read: Ultimate Dual: Can A Robot Arm Beat Table Tennis Legend?
This robotic arm will not be used in companies as the Kuka's robot for which it was developed. This product will be useful for anyone; players for practicing, a friendly opponent to play with in desperate times or just to fulfill your daily sports routine. You do not have to wait for someone or set a schedule that matches everyone's need.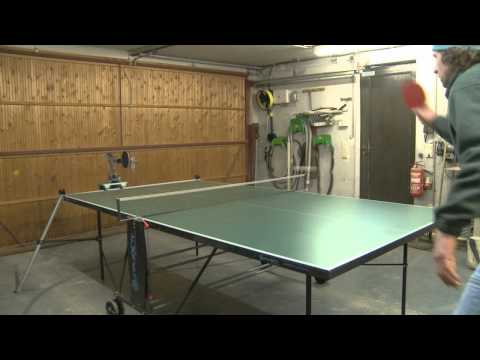 Our Product Review:
Pros: Fast response, Smooth sliding, Light-weight, Accurate shots, Good for real match practice sessions.
Cons: Post-development phase, Needs commercialization
Rating: 4.5/5