There is a need for omnidirectional robotic lounges, perhaps, in an untapped university market. Confused? Let us walk you through it. You had a late night studying session (or may be partying) which ended you up sleeping on the couch. Of course, you cannot wake up early in the morning for attending class but you were lucky to fall asleep on a Robocouch – that has given a whole new meaning to "couch surfing"
Maybe a friend can navigate you, using an Xbox gaming pad, all the way to your classroom with a few bumps over the stairs. If you are a heavy sleeper, you won't feel a thing and maybe you can get few more tunes in class to sleep much better. It is advisable to wake up once reached in class or your encounter with the professor in such a state will be a laughing spectacle for other students.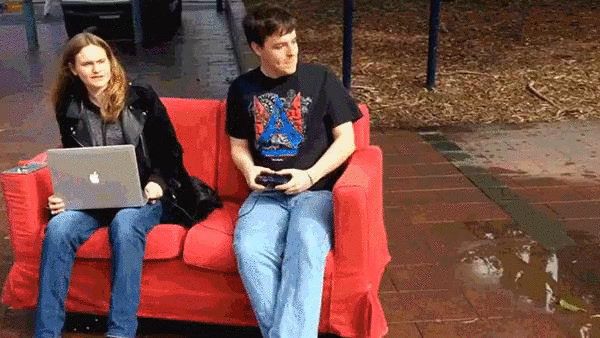 A team of University of New South Wales engineering students have created a robotic couch that can move in any direction using an Xbox gaming pad. The robotic couch is a brainchild of third-year computer engineering student Steph McArthur and second-year electrical engineering student Will Andrew. This project was started out as a joke between friends but soon gathered 9 team members and took a year to complete it.
The omnidirectional robotic couch features a custom-built steel chassis with mecanum wheels instead of legs. The mecanum wheels are energized with a 12 V electric scooter motor which are connected to a Raspberry Pi based central controller. The robocouch can reach a speed of 9.3 miles/hour and weighs app. 220 pounds. It costed $2802 to assemble everything all together.
According to Steph McArthur, "The couch fits quite nicely down corridors and in lifts, so if we can fit it out with different sensors to map indoor areas, then it could potentially navigate from one place to another, and not crash into things along the route."
The couch was finally displayed at the University of New South Wales Open Day after several test runs.