You might have seen number of airplane crash videos over internet, but what we are going to feature today is not less than something super fictitious.  An incident took place yesterday early morning in El Prat, Barcelona, Spain where a Boeing 767-300 was about to crash while landing, in Airbus A340, which was few feet away making approach to take off.
Although airport administration claims that both the planes were far off from each other, and were exactly at a safe distance but apparently it doesn't look logical. Decide it yourself by looking into what really happened there.
Boeing 767-300 is making approach to land, while the Airbus A340-300 comes on the runway.
The pilot of Boeing 767-300 aborts landing quickly and pull-up to clear ground.
Its very risky to pull-up in air while you are all set to land (landing gear down).
Landed safely on second attempt.
Watch the exclusive video below: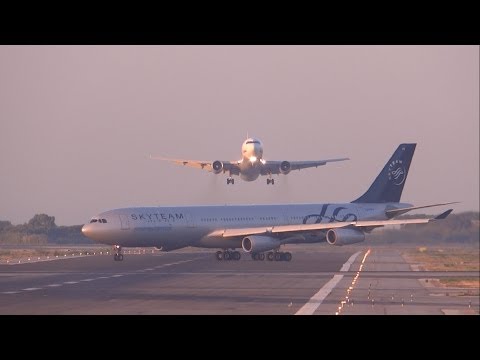 Images taken from Youtube video.